Bentley Race - Sarpa Van Rider
When hot guys that you always really like make a return it is always time to celebrate. Sarpa Van Rider is making him triumphant return to BentleyRace.com and we cannot be more excited! 
Notes from Bentley Race:
I'm really excited this week to have our mate Sarpa Van Rider making a return to shooting with us. It's been a couple of years since I have caught up with the beautiful Aussie boy. And I gotta say that he is looking super fit. Sarpa is working hard at the gym and as a tradie here in Melbourne. He even wore his work boots with his footy shorts in the shoot.
The cropped top however is not a part of his normal work wear. I've had many hot shoots with Sarpa in the past. But this is the first where I join in on his video, licking his hole and sucking his cock as he lays back on the couch. I'm hoping to involve Sarpa more in the shoots this year. He is also keen to help out with the filming. But for now I'm happy to get him modelling with us again.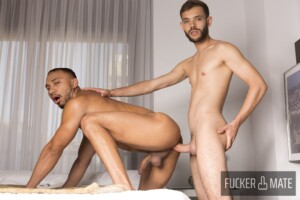 FuckerMate – Morning Lust with Tommy Dreams and Dani Brown Fuckermate's Columbian stud muffin Dani Brown has just woken up. Dani cannot stop thinking about his master fuck with Tommy Dreams. Lucky for us we are invited inside his head, and go back to the time when the duo hooked up. Tommy appears fully exposed
Read More »