FuckerMate - Morning Lust with Tommy Dreams and Dani Brown
Fuckermate's Columbian stud muffin Dani Brown has just woken up. Dani cannot stop thinking about his master fuck with Tommy Dreams. Lucky for us we are invited inside his head, and go back to the time when the duo hooked up. Tommy appears fully exposed and urges Dani to touch his massive cock. Brown drops to his knees and gives the french top a sloppy and passionate blow job. 
Tommy likes the taste of ass, so turns round his willing bottom and plunges his tongue deep inside his hole. Nice and lubed up its time for Dani to be impaled by Tommy's monster dick. He takes every inch and enjoys the deep pounding that he gets! 
Big Dicked Tommy Dreams Pounds Dani Brown at FuckerMate
Tell us what you think of this movie - Comment Below.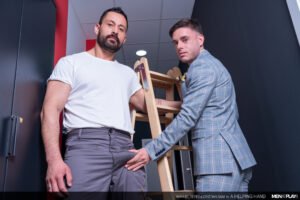 Men at Play Presents a Helping Hand Starring Manuel Reyes and Cristian Sam Manuel Reyes reluctantly stayed late to let in the technician who was coming to repair the projector before a board meeting the next day. He was taken aback when he saw Cristian Sam, dressed in grey worker pants and a white t-shirt,
Read More »