Viktor Romm & Kike Gil Go at it at FuckerMate.com
So this week at FuckerMate.com they bring back an old favorite, Mr. Viktor Rom. This alpha macho fucker is renowned the world over for his big dick and his unique fucking style. Hungry bottoms across the world would love a chance to be Viktor Rom'd and this week newcomer Kike Gil gets the opportunity. So let's break it down, what does Viktor have that others don't. For a start, he is muscle-bound, he has chiseled good looks and a thick girthy dick. Most importantly he knows how to dominate his willy bottom. Put this is all into perspective and you have pretty much a perfect recipe for the hottest of scenes.
This release by Fuckermate.com is something to get worked up about. Kike Gil happens to be going about his day to day business as he stumbles across flatmate Viktor laying on the bed. Is he reading? No. Is he watching TV? No. What else could he be doing, jerking off of course! So when the innocent newbie clocks Viktor's massive hard dick, he wants a piece for himself. I mean let's be honest with ourselves, who wouldn't wanna have a play with it? Kike moves in and grabs the rock hard cock and swallows it, whole. Viktor does not complain and enjoys having his cock guzzled on. Give Kike an award as he manages to swallow the whole length completely. He is either very well-practiced or has no gag reflex whatsoever.
Viktor Rom is hungry
So after a good old noshing, Viktor who is always hungry for ass positions Kike. Ass open and hole exposed Viktor bury's his tongue deep inside. This frantic ass eating is enough for us to blow our load, yet we hold back as we know there is more to come. Viktor wants more butt and so Kike literally sits on his face, you cannot get better than that. Viktor's face is covered in butt and continues to devour his way through it. Now the time has come, to fuck for their lives. The rest of the movie is made up of hard paced deep pounding. The positions are plenty and the noises are pure animalistic. We won't spoil it for you, but once you have watched this scene once, the likelihood is you will want to watch it again and again.
Now Playing: Fuckermate Viktor Rom & Kike Gil
Getting the Viktor Rom Treatment, Newbie Kike Gil, at Fuckermate.com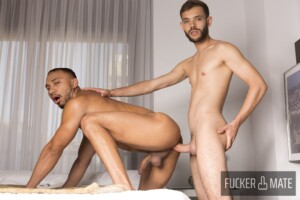 FuckerMate – Morning Lust with Tommy Dreams and Dani Brown Fuckermate's Columbian stud muffin Dani Brown has just woken up. Dani cannot stop thinking about his master fuck with Tommy Dreams. Lucky for us we are invited inside his head, and go back to the time when the duo hooked up. Tommy appears fully exposed
Read More »