Apolo Adrii & Valentin Amour- Lucas Entertainment
Lucas Entertainment introduces the stunningly hung top Mr. Apolo Adrii, who is after a tight round bubble butt to play with. Who else better for his monster cock to destroy that the world-famous hungry bottom, Mr. Valentin Amour. On meeting, there was definite sexual chemistry that translates into pure sex on screen. These guys wanna get it on and do! They get down to cock slurping, ass eating, and seriously deep and hard butt banging!
Bubble Butt Beauty Valentin Amour Gets Dicked by Apolo Adril
Tell us what you think of this movie - Comment Below.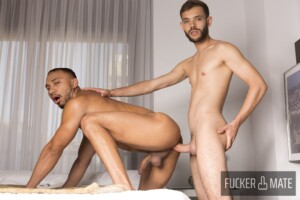 FuckerMate – Morning Lust with Tommy Dreams and Dani Brown Fuckermate's Columbian stud muffin Dani Brown has just woken up. Dani cannot stop thinking about his master fuck with Tommy Dreams. Lucky for us we are invited inside his head, and go back to the time when the duo hooked up. Tommy appears fully exposed
Read More »