Drew Dixon, Kyle Fox & Marco Antonio - Lucas Entertainement
There is a seriously raw threeway added this week at Lucas Entertainment . The morning shines its stunning views over the Puerto Vallarta, and the stunning studs are ready for some bareback big cock fun. The Latin Exclusive to Lucas Entertainment, Mr Marco Antonio is enjoying the sight on his balcony.
His bestie Kyle Fox has joined him on his estate and they are after some morning sex. There is a slight issue as there are both strictly tops and need a bottom. So after a phone call British Super Bottom Drew Dixon soon rushes over. 
Drew is renowned for taking cock whichever way it is given to him. So as he is presented with two massive cocks not only can he take the challenge he relishes it. He blows both Marco Antonio and Kyle Fox and licks and sucks till his heart is content (Yeah he is in cock heaven).
Then its time for the anal drilling Drew takes cock like he was born to do so, he rides them raw and gets filled in every position going. Bravo Drew, you are making the UK Proud.
Raw Threeway 2 Tops One Bottom - Marco Antonio , Kyle Fox & Drew Dixon
Tell us what you think of this movie - Comment Below.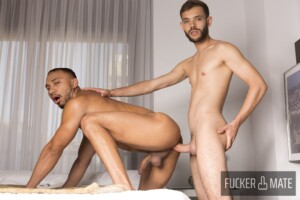 FuckerMate – Morning Lust with Tommy Dreams and Dani Brown Fuckermate's Columbian stud muffin Dani Brown has just woken up. Dani cannot stop thinking about his master fuck with Tommy Dreams. Lucky for us we are invited inside his head, and go back to the time when the duo hooked up. Tommy appears fully exposed
Read More »