Sean Cody - Jax Big Dick takes Eager Bottomed Jake
New at Sean Cody this week, Jax and Jake hook up. Jax aka Big Dick was really excited to shoot with Jake on this one. When questioned why he was so intrigued, he replied that he had previously seen Jake get fucked by Brysen. He went onto say he thought that the lad could seriously take cock. We have seen that scene too and he is completely right. We are just waiting for the day that Jax bottoms.
The duo are certainly have the same idea on how they both like to have sex. They start undressing one another and its not long before their hard cocks are exposed. Jake devours Jax's cock which takes his breath away. After giving him the blowjob of blowjobs, Jake lays on his back to get plow missionary style. After a hard pounding, the duo it doggystyle. Jake and Jax do it dirty and it results in lashing of hot cum, Thanks Sean Cody for another scorching scene!
Jax and Jake Get it on at Sean Cody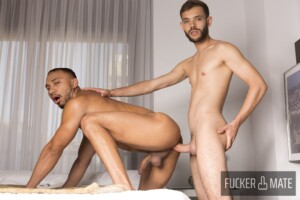 FuckerMate – Morning Lust with Tommy Dreams and Dani Brown Fuckermate's Columbian stud muffin Dani Brown has just woken up. Dani cannot stop thinking about his master fuck with Tommy Dreams. Lucky for us we are invited inside his head, and go back to the time when the duo hooked up. Tommy appears fully exposed
Read More »