Men at Play's - John Brachalli & Pol Prince
Everyone feels a little awkward when they are taking on a new flat flat mate. Do not worry  Men at Play matched up the perfect duo John Brachalli and Pol Prince. From the start you just know this gonna be something else. Anyways the newly moved in flat mate is being secretly watched by the owner. All naked and sexy action leading him to become hot and horny under the collar. 
After having his steaming hot shower Pol Prince makes his way downstairs and in nothing is his underwear. This is like throwing a red rag into John Brachalli's face. It is not long before the flat mates are more like flat fuckers! The pair continue to have pure and passion sex! We like it, we like it alot! 
Celebrate 2021 with Diego Reyes, Dani Robles and Manuel Skye - Men at Play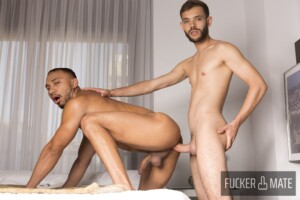 FuckerMate – Morning Lust with Tommy Dreams and Dani Brown Fuckermate's Columbian stud muffin Dani Brown has just woken up. Dani cannot stop thinking about his master fuck with Tommy Dreams. Lucky for us we are invited inside his head, and go back to the time when the duo hooked up. Tommy appears fully exposed
Read More »