Fuckermate - Kyle Fox and Valentine Sistor
This time at Fuckermate.com, they have sorted out a great duo of Valentino Sister and Kyle Fox. They have only been flat mates for a short amount of time and they share a secret admiration for one another. Things really come a head, when Valentino find Kyle Fox completely naked in the kitchen. So his sausage is up for a good old sucking. 
So things get really heated in the kitchen as Valentino wants nothing but ass for breakfast(and you can't blame him) After a deep tongue session they go to front room. This is where the fuck action starts Kyle wants to be done in every position possible and Valentino is more than happy to grant his wish!
Sexy Studs Kyle Fox and Valentino Sistor get down at FuckerMate
Tell us what you think of this movie - Comment Below.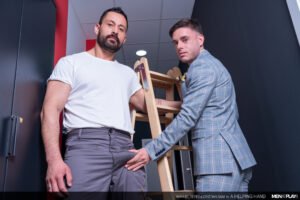 Men at Play Presents a Helping Hand Starring Manuel Reyes and Cristian Sam Manuel Reyes reluctantly stayed late to let in the technician who was coming to repair the projector before a board meeting the next day. He was taken aback when he saw Cristian Sam, dressed in grey worker pants and a white t-shirt,
Read More »