French Twinks Play a Dirty Game!
Paul Delay and the naughty lads over at French Twinks and simply bored, and that ultimately leaves them horny as hell. Fitties Bastien Leray, Timeo Blondel and Benjamin Dubois are eager to all participate in this game of bones. 
The guys start off with the usual questions and dares. The ones we have all played before. Then things take a turn for the naughty and soon there are naked French Twinks everywhere. 
When there is nudity, there are big hard dicks and those hard dicks soon find a place, in mouths and tight holes. Soon the game is abandoned and they are all fucking one another and no hole is left unfilled! 
Paul Delay Plays Truth or Dare with the French Twinks
What do you think? Let us know and get involved!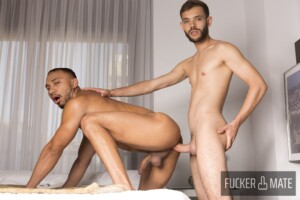 FuckerMate – Morning Lust with Tommy Dreams and Dani Brown Fuckermate's Columbian stud muffin Dani Brown has just woken up. Dani cannot stop thinking about his master fuck with Tommy Dreams. Lucky for us we are invited inside his head, and go back to the time when the duo hooked up. Tommy appears fully exposed
Read More »